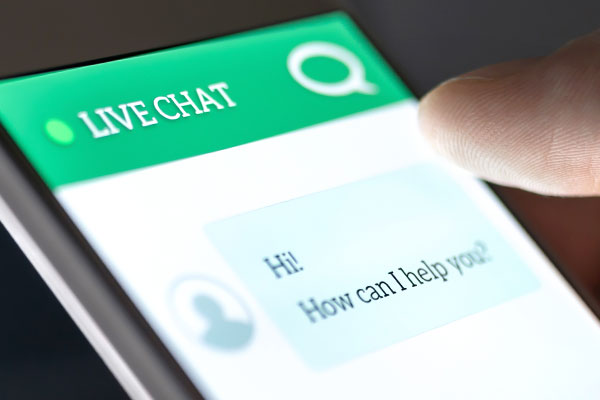 by Mike Bawden, President & CEO
The results are in: chatbots are not a fad.
What started out as a high-growth segment in the marketing industry in 2018 has turned into the next wave in online marketing. In fact, this study, published in September of 2019 by Boomtown) shows that about half of the companies in their survey use chatbots.
Most notably, companies with fewer than 250 employees were the ones relying on chatbots – with companies of ten or fewer employees making up roughly 40% of all the companies using the automated marketing strategy.
The Rise of the Machines
Although chatbots have existed since the late 1960s, it hasn't been until the explosion of social media in the last few years that we've seen AI-driven web applications take center stage.
In fact, since 2016, Facebook has allowed developers to build chatbots to work inside Facebook Messenger. That opoprtunity has expanded beyond conventional developers to now include marketers of all shapes and sizes.
Chatbots represent the latest stage in the development of what's referred to as the "conversational interface" – meaning buyers and sellers will be able to interact through an online connection without needing screens or mouses to do so. According to an article on the "history" of chatbots (by Onlim) …
"The interface will be entirely conversational, and those communications will be indistinguishable from tehconversations wthat we have with our firends and relatives."
But what's behind the growth?
There's no question that the Internet has driven a dramatic disintegration of what used to be considered "mass market behavior" meaning that marketers now think of their markets in terms of hundreds and thousands and not tens or hundres of thousands. As a result, the demand for individual attention to each opportunity has grown exponentially.
Using automated tools to reach and engage consumers was inevitable and chatbots fill an important need for the generation and collection of leads, making seamless commercial transactions, answering simple customer service complaints, etc.
Chatbotting on Facebook
Facebook provides what is possibly the easiest way for a business of any size to jump into the automated marketing pool. Articles like this one – promising readers to walk them through the process of building a chatbot for Facebook Messenger in five minutes or less can be found all over the Internet.
Other services, like MobileMonkey, provides not only a Facebook-centric solution but also gives marketers the ability to use the platform to build chatbots for their own site as well.
MobileMonkey has seen sustained growth since launching in 2017.
Affordable Resources and Alternate Platforms
Even though Facebook boasts over 2 billion unique pageviews a day and can drive enormous traffic to its Messenger platform, there are alternative platforms out there worth considering (especially if you, like me, have absolutely no engineering background but are willing to plunge ahead, anyway) …
•  OnSequel
•  Chatfuel
•  Botsify
•  FlowXO
(h/t to our friends at Buffer for providing this list)
Your AI is Only as Smart as You Are
Whatever you want your chatbot to do, it's up to you (or a qualified vendor) to create the strategy for how the conversation should progress and provide the words.
This isn't as simple as you might think. You need to spend the time and do the research to identify the most frequent questions your customers are likely to ask. Your efforts should focus both internally (on CSRs and your social media team) and externally (on discussion sites like Quora and Reddit).
Using that research as a foundation, you'll need to build a "conversation tree" for your chatbot – avoiding open-ended questions as much as possible.
Creatively, it's important to give your chatbot as much "personality" as you can for one simple reason: your chatbot's approach to problem solving and selling will be a big factor in setting the customer's perception of your brand's "voice" and "tone."
Keep a Human on Stand-By
All automated marketing channels need to remember that a vast majority of  customers prefer to interact with humans over chatbots (can you blame them?), there's little question that a chatbot is superior in terms of user experience to a "contact us" form.
While it might be nice to think you've fully automated the selling process with a tireless, ever-optimistic chatbot who has all the answers, that may not be what your customer is looking for. Just be sure to let people know that they are always just one click away from a real person who will look after their problem if the chatbot can't handle it.
Keep Striving for Continuous Improvement
It's entirely possible to survey customers after they've had an automated marketing experience with your brand – and you should do that. Here's why:
1. Following up on a customer's satisfaction may provide a "folllow-up sale opportunity" based on the feedback received and the questions answered;
2. The data collected through the survey responses can help you build an even better version of your chatbot for its next deployment.
Just whatever you do, please don't name your chatbot SKYNET because we all know how that turned out, don't we?